Drama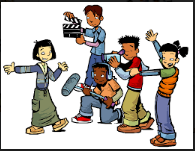 Intent
Drama is much more than just learning a new skill; our primary aim at Poverest Primary School is to develop a sense of creativity, self-expression, lends itself to an array of cross-curricular opportunities providing a platform in which to discover and explore a range of topics and themes as well as characters and settings and their exploits. It is a way to empathise with a character and take a closer look into the inner thoughts and motives of character and plot development in a fun and safe way.
However, It is not just about skills learning. Drama promotes a safe environment to develop self-esteem, to gain confidence when speaking in public and to be creative in response to a range of media. Moreover, it is a means to promote wellbeing and to help children develop and grow as unique individuals.
An important aspect of the Drama programme at Poverest Primary School is to expose children to different cultures, their traditions and their artforms and to develop an appreciation of the arts both on and off the stage. Our ultimate hope is to inspire our children.
Implementation
Drama at Poverest follows the three strands identified in the National Curriculum is very much teacher guided and primarily to be embedded naturally within individual year group lessons. Within the three strands several key areas exist:
Making Drama
drama games

improvising

character development

story sequencing

plot development
Performing and Reflecting
body/voice expression

props and staging

backdrops and location

music and sound effects

reflecting and directing

performing to an audience
Drama Conventions
stage design

costume design

scripting
Each strand follows a clear sequence in progression, which can be seen on Articulate's 'Progression in Primary Drama' by Stefan Kucharczyk (see helpful links section)
Drama Workshops and live performances
Panto at the local theatre

Drama4All free workshops - KS1 & KS2 - on a rolling alternating term basis

live in-school workshops - subject based

theatre trips - local and London based
Drama Workshops and live performances
Panto at the local theatre

Drama4All free workshops - KS1 & KS2 - on a rolling alternating term basis

Live in-school workshops - subject based

Theatre trips - local and London based

Working alongside The National Theatre with their Story Seekers programme and developing teacher skills through their CPD events

Working alongside CLiPPA and their Performing Poetry Shadowing Scheme

Participating in Junior Filmmakers' Competition
Drama and Filmmakers' Club
A weekly Drama and Filmmakers' club promotes spontaneity, imagination and creativity. It is a combination of drama based activities, camera work, performing and editing. Projects tend to range from individual monologue performances to documentaries and short movies. Possible future activities will be to perform to the public, competitions and a short movie.
KS1 Nativity plays / Musical Theatre
Year 6: Production
Impact
The development of Drama across the school can be seen through more performances and dramatic activities and a growing appreciation of theatrical performances. Pupils have a growing interest in drama and a creative approach to short dramatic activities.
By the time children leave our school they will:
The majority of children leave with a love of Drama

Have a greater appreciation for the arts in general having experienced live professional performances.

Experience a broad, balanced arts curriculum, with an emphasis on the development of understanding and skills in drama. 

Experience the arts through other areas of the curriculum.   
Be given a wide range of opportunities to express themselves creatively.   

Be given the opportunity to develop performance skills and perform to the school and wider audiences.    

Have gained a deeper confidence to speak in front of a group and for some to extend this to a wider audience.

Have developed a stronger sense of self-esteem through their exploration of meaningful themes
How will we know?
Through a growing number of performances and children taking part in dramatic events
More children joining the drama clubs on offer
Photos/videos on class portfolios and drama portfolios
Class / Drama club performances
Talking to the pupils about their opportunities to perform in class and what kind of drama they are doing
Talking to the teachers about the drama they are doing in class
Helpful Links
Articulate's 'Progression in Primary Drama' by Stefan Kucharczyk