Buddy The School Dog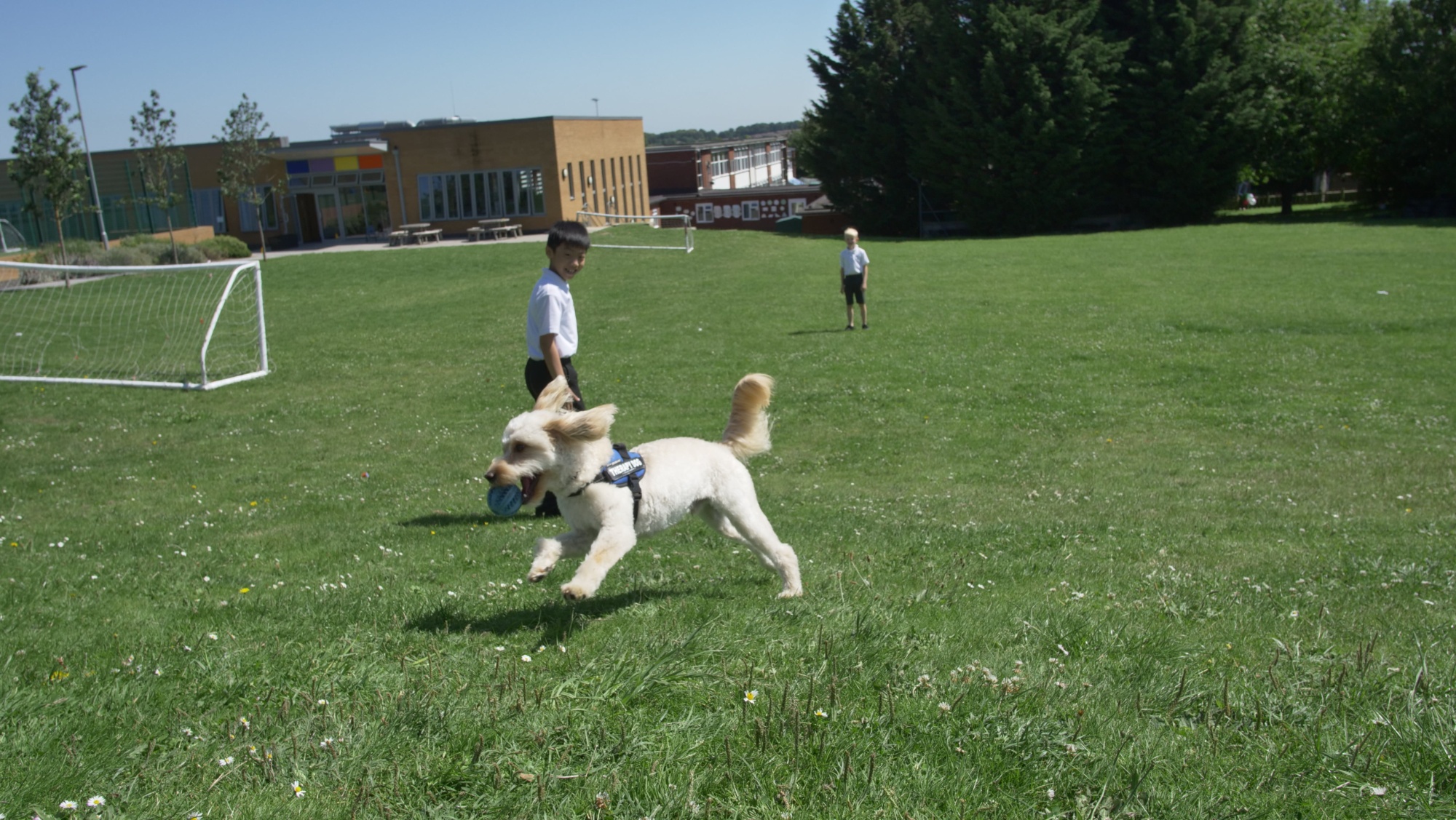 At Poverest Primary school we have a school dog called Buddy - if you imagine the world's most loving dog – multiply that affection by 100 and you've got Buddy! Buddy qualified as a Therapy Dog in April 2021 and supports pupils and staff in our school.
He is a 3-year-old miniature labradoodle who lives with Mr Haylock and his family and comes into school on most days. Buddy completed his school dog training in September 2021 and is fully settled into the school community having been introduced into the school environment from 12 weeks old.
Buddy is based in the Deputy Headteacher's office, but will often be seen on a lead with Mr Haylock around school. Buddy is used as a dog to provide therapy, motivate and read with children in both the mainstream and specialist autistic provision.
Buddy was specifically chosen to be a 'School Dog'. Labradoodles are a breed of dog known to be good with children and have the correct temperament to work as a therapy dogs. Labradoodles are a low-shedding breed of dog and are considered allegy-friendly and hypoallergenic, they are also considered to be good with helping humans and are great dogs for people with autism, depression, or physical disabilities. Buddy is a sweet, attentive and friendly dog. His auntie is an experienced therapy dog working in Essex schools.
It has been proven that working and playing with a dog improves children's social skills and self-esteem. Many studies have been undertaken that credit the benefits of dogs in schools. There is no better place to educate our children on how to treat animals than that of the school environment. Animals in schools can encourage children to respect all life, teach responsibility, motivate those children who are often not that attentive, help calm children down and improve academic achievement.
In addition to this, if children are wary of dogs, they can be supported in approaching, handling and gaining confidence in managing their fears, through the presence of a specially trained dog in school. Buddy has certainly 'won' over many children who were nervous about dogs.
Buddy has been fully risk assessed but if you have any questions, concerns or reservations then please do contact the school for further information.